Ever wondered what you need to bring on 1-5 night backpacking trip in the mountains? Choosing the right gear to bring is a little like the story of Goldie Locks- you don't want to bring too much or you will be cursing the weight of your pack, and you don't want to bring too little or you may leave out something essential- like your sleeping bag or water treatment!
That's why Guides of Jackson Hole has compiled this gear list of essentials – ideal for any-length backpacking trip in the mountains during the Spring, Summer of Fall. Winter camping is another story. We have organized this list into three sections: Personal Gear, Group Gear, and Guide Gear. Personal gear is needed by everyone in your group; group gear can be carried by your guide or split up throughout the group to spread out the weight; and guide gear only needs to be carried by the group leader and includes first-aid, navigation, and other emergency equipment to keep the team safe and sound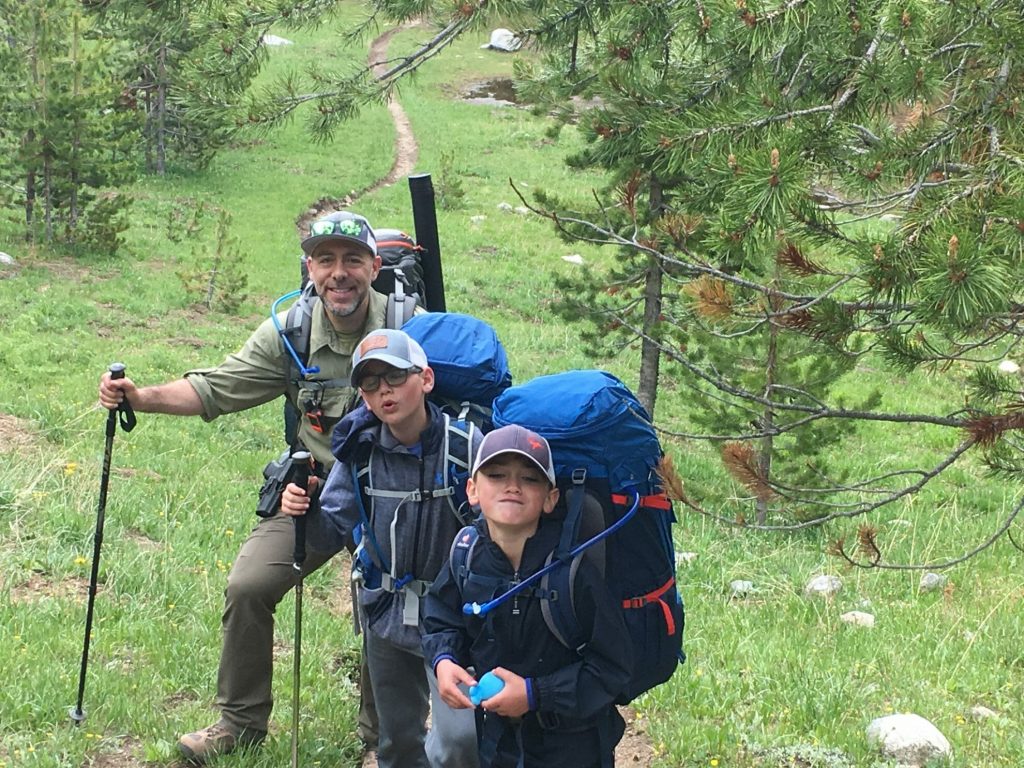 Personal Gear
Gear essentials:
35-85 liter backpack with waste strap (depending on length of trip, size of participant, and amount of food carried)
Headlamp and one set extra batteries in ziplock
Flashlight or lantern with extra batteries in ziplock
Sun hat, Sun glasses, Sun screen
Warm at least <20F degree sleeping bag. Optional sleep sheet for extra warmth
2 large waterproof stuff sacks, ideally compression sacks like Sea to Summit – 1 for sleeping bag, 1 for clothes – (if you do not have waterproof stuff sacks, you can line the entire backpack with a contractor trash bag)
1-2 smaller waterproof stuff sacks for valuables/books
Inflatable or foam sleeping pad (optional – repair kit or tenacious tape)
1 fork and/or spoon
1 plate or Frisbee, 1 bowl – preferably with lid like Tupperware to save food for later, and 1 insulated cup/mug
Capacity for 2-3 litters water (I prefer 1 water bottle and 1 Camelback)
Safety Whistle
Clothing essentials:
Good waterproof hiking boots with ankle support (broken in)
1 pair sandles or camp shoes, that can also get wet for river crossings or playing the lakes – Chacos, Teevas, Keens, or old tennis shoes work well
3x wool or synthetic blend socks, not cotton (2x for hiking and 1 sacred to be kept in your sleeping bag and never to be worn outside)
2x hiking shirts – synthetic not cotton – preferably at least one long sleeve and baggy to keep sun and bugs at bay
1x hiking pants – synthetic, non cotton
1x swim shorts/hiking shorts – synthetic, non cotton
2x underwear – preferably synthetic/non-chaffing
1x long underwear bottom
1x long underwear top
1x longsleeve base layer shirt
2x warm fleece and/or puffy with hood (at least 2 warm layers, if not 3 for kids)
1x rain jacket shell
1x rain pants (optional but very nice)
1x warm winter hat
1x light but warm gloves with dexterous fingers to do camp chores
Optional – buff or bandana for bugs, sun and cold
Toiletries
Any medications – inhalers, medicines, vitamins, etc
Toothbrush
Toothpaste (can be shared with group)
Sunscreen (can be shared)
Hand sanitizer (can be shared)
Small <3oz of hand soap, Dr. Bronners, for ex. (Shared)
Bug spray (shared)
Leatherman or multi-tool
Optional:
Trekking poles
Camera
Good book
Journal/sketchbook, pens or pencils
Fishing rod, tackle, and Wyoming license (small golden spinner lures with rooster tails work great)
Gaiters for boots to keep water and snow out
Small pillow
Toilet paper, unless you are OK with using sticks and stones!
Group Gear
Camp Gear:
Tent with capacity for group size (shared)
2 lighters
1x Stove and Fuel – I prefer the MSR DragonFly Stove liter fuel bottle
1x 1-liter pot
1x 10 inch light Frying pan with lid
Camp knife
Cutting board (or Frisbee)
Large spoon/spatula for stirring
Coffee French press or pour over (optional for coffee fiends)
1 group thermos (optional)
Food
Breakfast, Lunch, and Dinner for each full day in the field
Food storage for bear country (I carry a Kevlar bag and 30feet of parachute cord)
Snacks you love like chocolate
Energy bars (2-3 per person per day)
Emergen-C packets/tablets or NUUN or Gatorade – for electrolytes
Extra empty gallon ziplock bags
1-2 plastic trashbags
Guide Gear
Wilderness Survival/Medical
Bear Spray when in bear country
Rain tarp
Tent/gear repair kit (tenacious tape, sewing kit, safety pins, extra p-cord)
First aid kit with extra mole skin and athletic tape
Small shovel to bury human waste
Water treatment (we prefer Aquamira)
Multi-tool such as a Leatherman Skeletool
Navigation:
Topographic map
Compass
GPS (optional but handy)
Local knowledge
Backup plan
Contact person who knows your plan and timeline
And of course, always bring a positive attitude and a healthy dose of stoke!