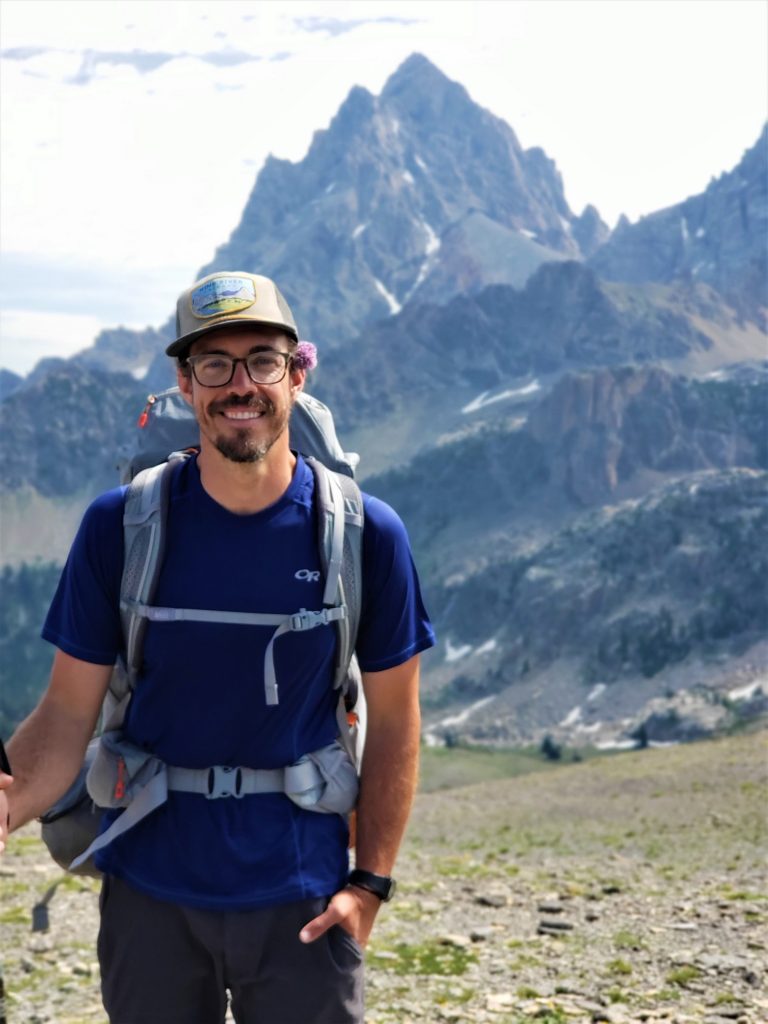 By Evan Mathews, Top Guide GoJH
There are so many beautiful hikes and areas to choose from in Grand Teton National Park that it can be a bit overwhelming for someone traveling to the area for just a short time to choose where to spend their limited days. As a 5-year local of the area, I'd like to pass on what I've learned over these past few years to hopefully help prospective Teton hikers make up their minds as to where to go.
In this article I've split the hikes into three categories: Beginner, Intermediate and Advanced to make it easier to pick which one is right for you and your group. Each of these hikes can be considered day hikes, with one of the Advanced hikes having the option to split into two days.
DISCLAIMER!
There are three things I HIGHLY recommend for all of the hikes on this list:
There are no guided hikes permitted in Grand Teton National Park, so you will be on your own. We are happy to provide suggestions, but cannot guide you. We can guide hikes in Yellowstone so please give us a call if you are interested. With that in mind, make sure you let a friend or family member know where you are going and when you expect to come home so they can be alerted of an emergency.
Bear Spray – I have personally seen black bears on every single one of the trails I name in this list. I have never been charged or shown aggression by these bears, but that does not mean that you will have the same experience! Many hotels in town will have bear spray to loan out at the front desk, so ask. And if they don't, you should seriously consider buying some if you will be hiking in the Tetons or Yellowstone for any amount of time.
The ViewRanger App – this is available for FREE on both iPhone and Android, and is a great tool for any travel into the backcountry. The reason I recommend this app is because it not only shows trails which are maintained, but it also shows social trails which can often be difficult to find the entry points to. You can also easily record your hikes so that you have a "crumb trail" to follow to get back should you have the need.
Ok, now that these are out of the way, let's dive in!
Beginner Hikes
1) Phelps Lake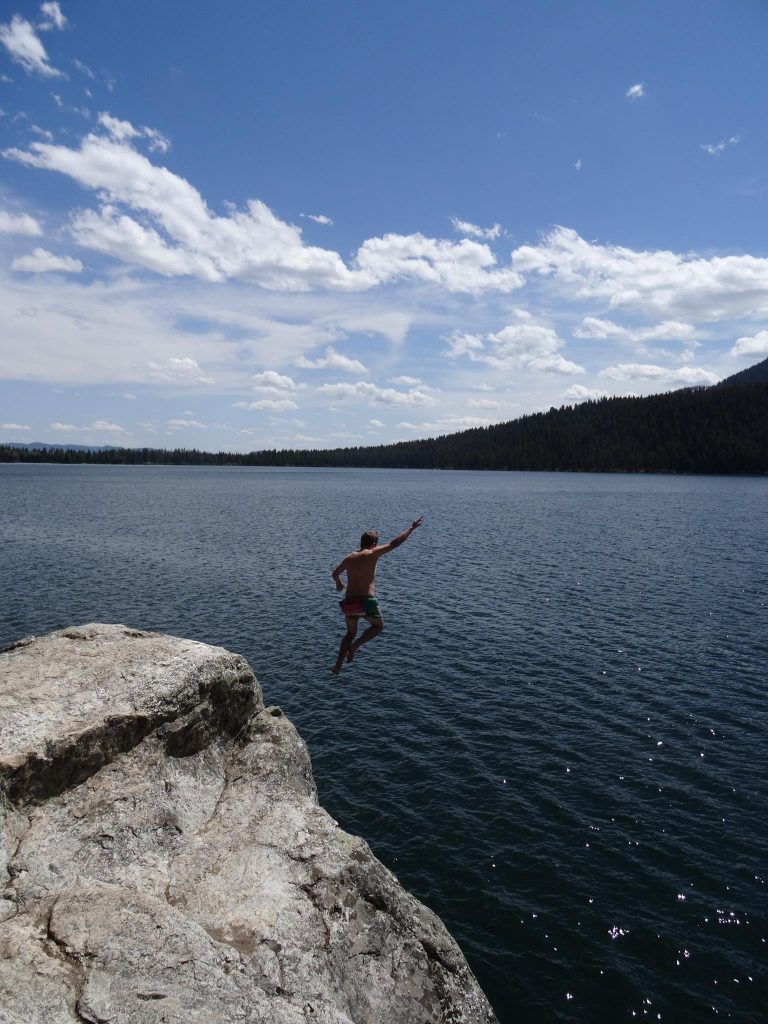 This hike is one of the best bang-for-your-buck short hikes in the Tetons if you only have a few hours to spare. The trail starts from the Laurence S. Rockefeller Preserve off of the Moose-Wilson road (between the Moose, WY park entrance area and the town of Teton Village). One of the aspects that makes this a great hike is that you have the option to do it as a loop since there are two routes to choose from (the woods route and the creek route), or you can just go out and back the same way.
The destination lake is a beautiful glacial moraine lake at the mouth of Death Canyon, one of the most spectacular canyons in the park with huge rock walls rising on either side. This view alone is worth the hike. For an added bonus you can hike along the right (North) side of the lake for another 20-25 minutes to a jumping rock right on the lake's edge which is about 20 feet tall and provides an incredible photo opportunity for anyone adventurous enough to take the plunge!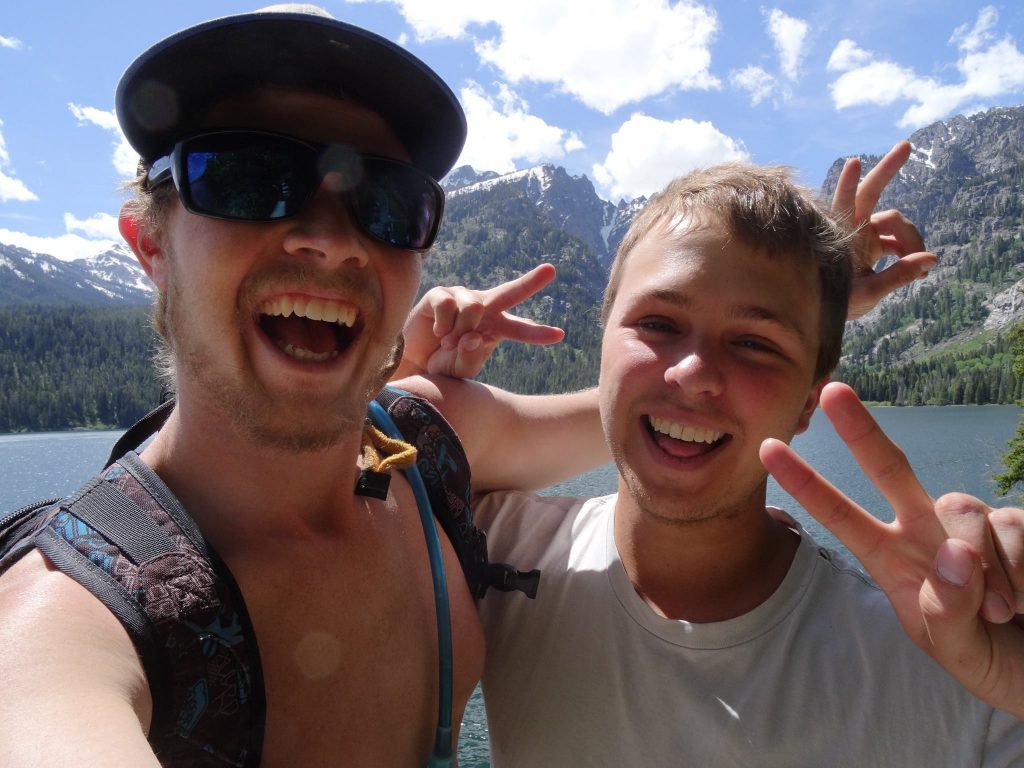 STATS:
Distance: approx. 3 miles round-trip (5 miles round-trip to jumping rock)
Elevation Gain: 300ft
Time to complete: 2 – 3 hours
When to go: May – Oct (July – Sept for swimming)
Distance to trailhead (from Jackson): 35 minutes
Intermediate Hikes
2)  Garnet Canyon Meadows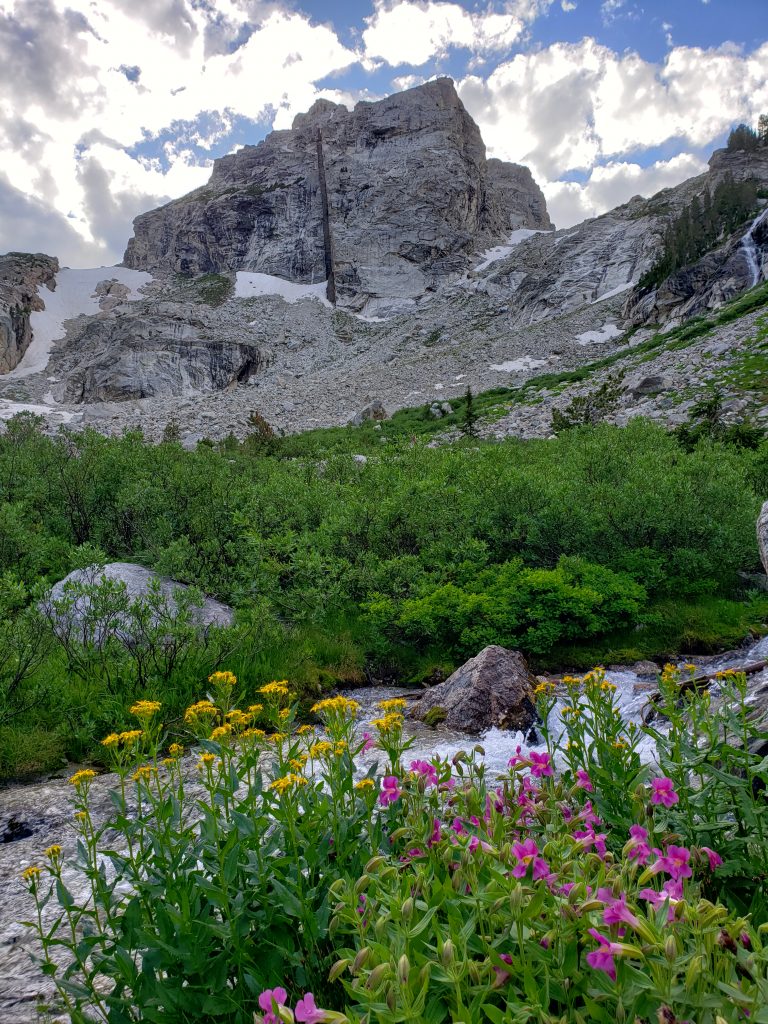 This is one of the most stunning day hikes in the Tetons in my personal opinion! Though the trail can be busy, you will find that roughly 3 miles in you will separate from the majority of the crowd and begin to make your way into an unbelievable alpine meadow that is surrounded by the largest peaks of the Tetons.
Start this hike at the Lupine Meadows trailhead, along with all the other hikers headed to climb the Grand Teton, Middle or South Teton, or going up to Surprise and Amphitheatre Lakes. Because these are all accessed from this trailhead you will find a packed parking lot and likely a busy trail in the first few miles. But don't worry, many folks get separated from the pack quickly as the trail begins to switchback up the face of Disappointment Peak. Your legs will probably be burning during this section, but remember the effort is worth the reward!
At three miles in there is a junction with a sign (not the first junction before the switchbacks, the second one after them!). It will point to the right (North) for Amphitheater Lake, and left (South) for Garnet Canyon. You want to head South. The trail will continue to be easy to follow for another mile or so until you reach a large boulder field next to the creek. Hop from boulder-to-boulder until you find the trail on the other side, and take this the last mile or so to the meadow. You'll know you're there when you see the fields of wildflowers, and feel as though Middle Teton could topple over on top of you! Bring a lunch and sit here enjoying the view before heading back down.
STATS:
Distance: 10 miles
Elevation Gain: 3000ft
Time to complete: 5 – 7 hours
When to go: late June – Sept
Distance to trailhead (from Jackson): 35 min
Advanced Hikes
3)  Static Peak

Although this hike is considered "advanced" it is not a difficult trail to follow. The elevation gain and overall distance is what will challenge the average day hiker!
To start this trail, drive to the Death Canyon trailhead off of the Moose-Wilson road. This road is rough and rocky in spots, but I've done it in a Prius so just take your time and avoid the occasional large boulders! Once at the trailhead it is obvious where to start. Head up to the Phelps Lake overlook, then continue on down the hill to the mouth of Death Canyon. Follow the canyon trail back to the old ranger cabin about 4 miles back. At the junction here at the cabin you will split off to the right (North) and begin the ascent up Static Peak. The trail switchbacks up the ridge occasionally crossing shallow cascades until you eventually reach the saddle between Static and Albright peak. The views from these switchbacks looking up Death Canyon are unbelievable!
Once you reach the saddle you will begin travelling North along the ridge toward Static Peak. There is a section which traverses the east face of the ridge below the ridgecrest. In the early summer this can still have snow on it, and some hikers chose to take the class 3 scramble along the ridgecrest instead. I highly recommend bringing an ice axe if doing this hike before mid-July! After this face traverse you will get back on the ridge proper, then make a steady climb up an alpine meadow to the summit of Static Peak. This is one of the easiest peaks in the Tetons to summit, and provides one of the best views! If you are hoping to feel on top of the world while here in the park, this is a great way to do it.
After savoring your achievement, begin the long but beautiful descent back down the way you came. Most likely the most challenging part of this hike will be the short hill at the end where you have to make your way back up to the Phelps Lake overlook from the mouth of the canyon, before descending back down to your car.
STATS:
Distance: 16 miles
Elevation Gain: 4500ft
Time to complete: 8 – 12 hours
When to go: July – Sept
Distance to trailhead (from Jackson): 35 min
4)  Lake Solitude/Cascade Canyon North Fork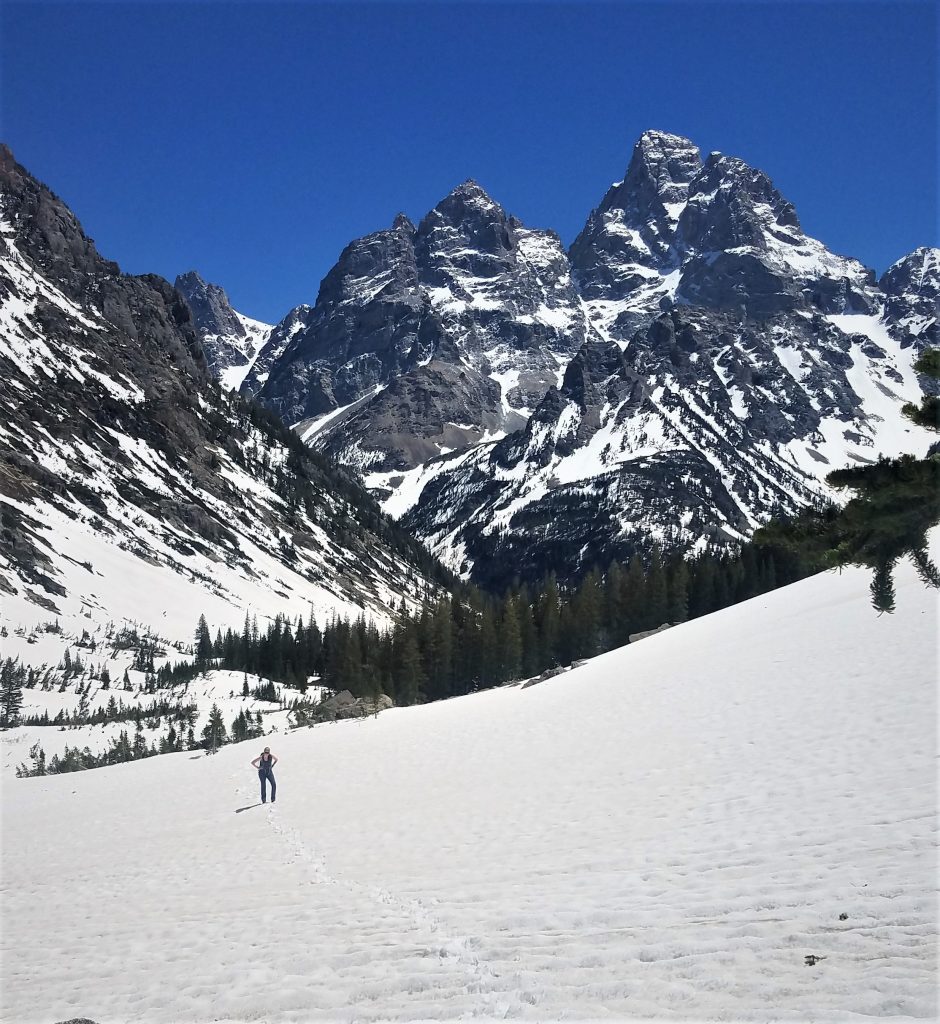 This is another very straight-forward, but loooooong hike to make a day-hike out of. If possible, a great overnight in the Tetons is to stay at Lake Solitude by getting a backcountry permit from the Jenny Lake Ranger Station.
You can start this hike either from the Jenny Lake Boat Launch (preferred) or from the String Lake Trailhead, which adds approx. 3 miles to the overall distance. If starting from String Lake, make your way south to Jenny Lake and either hike all the way to the boat dock before starting up toward Inspiration Point, or turn off up the horse trail about 150yds before the boat dock. If starting from the boat, make your way up to Inspiration Point and then start heading west into Cascade Canyon from there.
The Cascade Canyon trail is a very easy to follow trail along Cascade Creek, which has unbelievable views and lots of moose ponds to look for/view wildlife along the way. About 4.5 miles back from the mouth of the canyon you will come to a fork in the trail. Here you will head right (North) toward Lake Solitude. After a short jaunt through a forested area you'll come out into an open part of the North Fork of the canyon and see peaks rising all around you. Continue northwest a bit until you reach Lake Solitude, a backcountry lake with great trout fishing and an excellent view of the Grand Teton to the south. Whenever you're ready, start making your way back toward the mouth of the canyon OR if you started from String Lake you can continue over Paintbrush Divide (ice axe recommended before late-July) and down Paintbrush Canyon back to the String Lake trailhead.
STATS:
Distance: 16 – 19 miles
Elevation Gain: 2500ft
Time to complete: 10 – 14 hours
When to go: July – Sept
Distance to trailhead (from Jackson): 35 – 40 min As a pseudo-local these are my best recommendations for day hikes in Grand Teton National Park. I hope everyone reading this article can find a trail that suits your timeframe and ability level, and enjoy the incredible scenery that this park has to offer. Cheers, and happy trails!